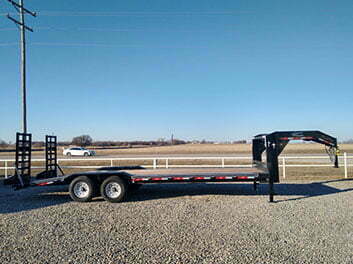 STANDARD FEATURES: DECK-OVER GOOSENECK TRAILERS
14,000 LB GVW
2-5/16″ gooseneck adjustable coupler (25,000 LB)
102″ wide deck, 5′ dovetail
3 foldover ramps, spring assisted (2 ramps with or without pop-up available)
2″ treated yellow pine deck
2 – 7,000# axles, electric brakes
6-leaf spring suspension
4 NEW silver mod 8-lug wheel
4 NEW 235/80 R-16 10 ply tires
12″ X 14 LB I-beam neck and frame
Full width tread plate tool box in the neck
Spare tire mount
5″ channel iron outer frame
3″ channel iron cross members 16″ centers
2 – 10,000 LB drop-leg jacks
Torque tube for flex control
Heavy duty safety chains
Stake pockets and 2″ X 3/8″ rub rail
Steps and handles on both sides
7-way RV plug w/ standard wiring harness
LED DOT-approved lights
License plate bracket, light
Electric break-away kit
LOW STYLE GOOSE-NECK (when different from above)
82″ wide deck between the fenders
2′ tread plate dovetail
6″ channel iron frame (trailers up to 22′ long); 8″ channel if the trailer is 24′ long or longer
3″ channel stand-up ramps (mounted ramps optional)
Tread plate fenders
1 – 10K drop-leg jack on trailers up to 22′ long; 2 drop-leg jacks on trailers 24′ or longer)
chain tray in the neck on trailers up to 22′ long; enclosed tool box on trailers 24′ long or longer
 
Mechanically cleaned and prepared for paint with automotive-grade acrylic enamel paint applied with an electrostatic application.
Buy made-in-Oklahoma trailers, and you will be working with local manufacturers that stand behind their products and support their customers.
Starlite's gooseneck trailers pull behind your truck as if they weren't there. They won't sway or fish-tail. Because a GN coupler distributes more of the weight to your truck, you can load a 14,000 GVW trailer with a full 14,000 pounds of cargo. Load it and go!
Let us help you with your trailer needs. We stock a good supply, but we can also order custom trailers, designed to meet any need.
Trailers built by Starlite are designed and built for years of hard use. Find out more here. Starlite has over 35 years of trailer manufacturing experience that we and they can put to work for you! Call us for GN trailers up to 40′ long.
We also stock Gravity Tilt trailers built by Friesen Trailers, another small, Oklahoma-based company.  Go HERE to learn more.  Gravity Tilt trailers eliminate the need for ramps.  Nothing to clatter and bang as you go down the road.  Nothing to pull out and handle.  Just unlatch the tilt, step on the back of the trailer and watch it ease down to the ground, drive you tractor or skid steer equipment up the tilted bed, pull forward far enough to put weight on the front of the tilted trailer and the hydraulic cylinder eases you down.  Then you can pull forward until the front of you equipment is on the stationary part of the trailer.  And be sure to latch the tilt-bed securely.  Once you have a Gravity Tilt trailer, you will wonder why you didn't buy one years ago.
Unless stated, the goose-neck trailers we stock have 7,000 axles with electric brakes and are rated at 14,000# GVW. The low-style trailers give you 82″ between the fenders, and have 2′ dovetail and either mounted (slide-in) or stand-up ramps. The deck-over trailers are made to maximum legal width, 102″ and come with a 5′ dovetail and fold-over ramps. The Marty Special has sturdy drive-over fenders, and is also 102″ wide.  It has a 4′ dovetail with mounted or stand-up ramps–your choice. All of our trailers are manufactured with handy stake pockets and a rub rail that make it easy for you to tie down your load.
Gooseneck Trailer Pricing
| wdt_ID | Availability | Description | Price | Discount | Sale Price |
| --- | --- | --- | --- | --- | --- |
| 4 | CAN ORDER | 22′ Gravity-Tilt trailer: 6′ stationary + 16′ tilt. 14,000 GVW. Powder coat paint. | 0 | | 0 |
| 6 | SOLD | 22′ (20'+2′ dovetail) GN, 6″ I-beam, 82″ wide, 7000# axles. PRICE LOWERED! | | | 0 |
| 7 | SOLD | 24′ (20'+4′ dovetail) 102″ wide, drive-over fenders, mounted ramps, 2 – 7k axles. | | | 0 |
| 8 | IN STOCK | 25′ (20'+5′ dovetail) GN, 102″ wide. Lo-Profile, 3 foldover ramps. New lower price! | 8.900 | 0 | 8.900 |
| 9 | IN STOCK | 28′ (24'+4′) 102″ wide, drive-over fenders; 7k axles, stand-up ramps. IMPRESSIVE! PRICE DROP!!! | 8.400 | 0 | 8.400 |
| 12 | | | | | 0 |